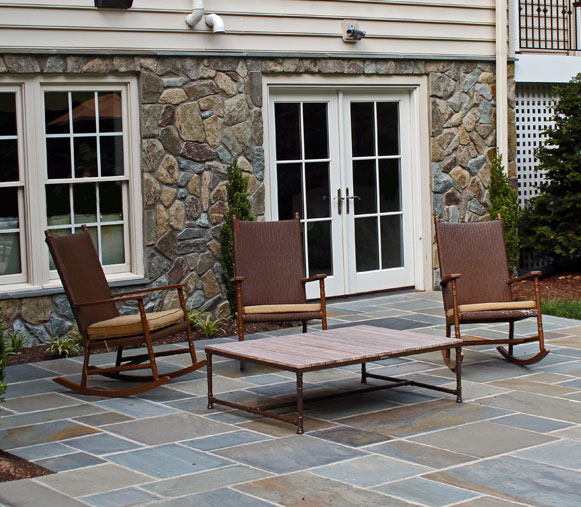 When many people think of a classic, timeless look for a landscape, they think of a flagstone patio or walk. Few materials can be so versatile. For a formal look, a pattern of flagstone squares and rectangles is a perfect fit. A grid of square flagstones can look classic or contemporary depending on the stone and the layout. For a rustic woodland patio or walkway, irregular flagstone (also called "broken" flagstone) can make the paved space blend with the surroundings.
Flagstone Installation Options
Flagstone is also versatile in how it's installed. It can be dry laid with no mortar right on a bed of stone dust. The joints can be filled, either with stone dust or with a polymeric dust product that locks everything together. Perhaps most commonly, flagstone can be mortared to a concrete slab and the joints grouted with mortar. Which method you select is up to you. Not sure which is right for your project? Consider working with one of our talented landscape design professionals!
Flagstone Offers Many Color Options
Another consideration with flagstone is the color. The most common color palette you'll see as you drive around northern Virginia is a variegated gray with hints of blue and rusty red. This stone is quarried in Pennsylvania, making it a terrific regionally appropriate choice. Virginia is known for its red brick architecture, and red brick pairs beautifully with Pennsylvania flagstone.
Don't think for a moment that you're limited to one color palette, though! Stone from Tennessee can have varying shades of tan and brown. Indiana limestone is a cool gray color. Our suppliers are even providing stone quarried overseas. Your designer can help you find the choices that are right for your home.
Ready to get started? Contact us today to schedule an appointment with one of our experienced designers and we'll make your property beautiful.