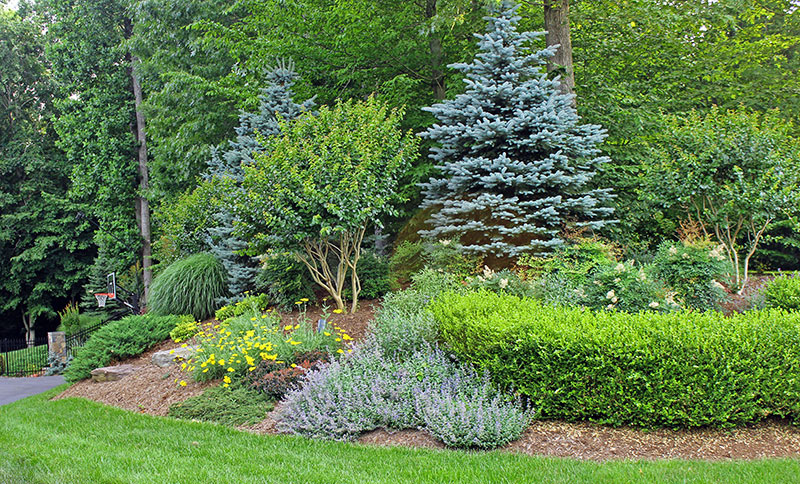 In addition to being an outstanding nursery and garden center, GreenWorks is an experienced Chantilly landscape contractor. Our highly trained crews can tackle any project for the outside of your home. Here are some of our most popular services.
Planting
One advantage to working with a garden center that's all about great plants is that our crews know more about plants than most other landscape contractors.
Landscape Lighting
Nothing says "welcome home" like the soft glow of lighting when your home comes into view.
Water Features
Everyone loves the sound of water. Whether you're looking for a small bubbling fountain or a Koi pond with natural waterfalls and streams, we're northern Virginia's water feature professionals.
Drainage
Your landscape contractor should always be able to answer the question, "where does the water go?" Our expert installers understand local soils and how to manage water so it goes where we want it – and stays out of your home.
Rock and Boulder Placement
Done well, natural stone can provide beautiful and functional accents in the landscape. At GreenWorks we have the equipment and knowhow to make it happen.
Landscape Maintenance
Landscapes become more beautiful over time if they're properly cared for. Our team can help guide your landscape to reach its fullest potential.
Flagstone Patios and Walks
Natural stone is a beautiful accent for almost any home, and comes in a wide range of colors. Learn More
Paver Patios and Walks
Concrete pavers are a manmade paving choice that offer myriad options for size, shape, and color.
Segmental Retaining Walls
Artistry and technology have come together with segmental retaining walls.
Natural Stone Walls
Natural stone walls require the deft hand of a skilled mason to look their best. We can do that.