An Inviting Patio Improves Any Home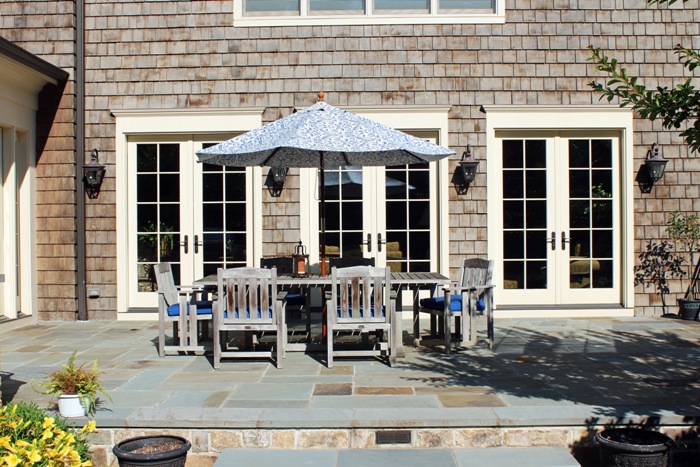 The clients love entertaining and needed an outdoor space that was open and adaptable to a variety of uses. This flagstone patio located in McLean, Virginia achieves all that and more. Accessible via several doors, guests can easily move around during cocktail parties, or enjoy the expansive patio from the table while dining al fresco.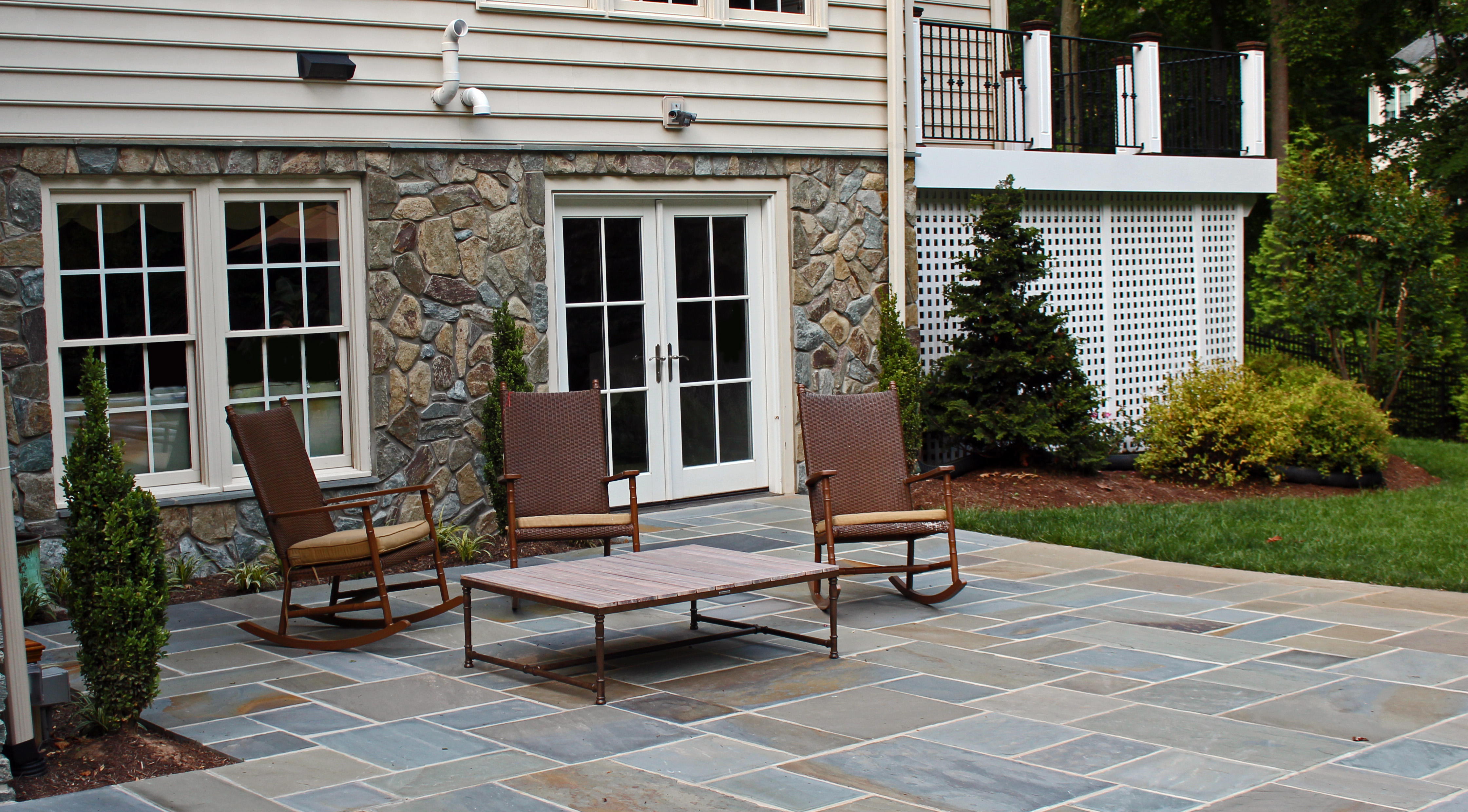 The homeowners enjoyed their spacious deck, but they felt like they were missing out by not having a patio from which to really enjoy the yard. In this Chantilly patio project, we created a space that's easily reached from the walkout basement and provides ample space and wonderful views of their plantings.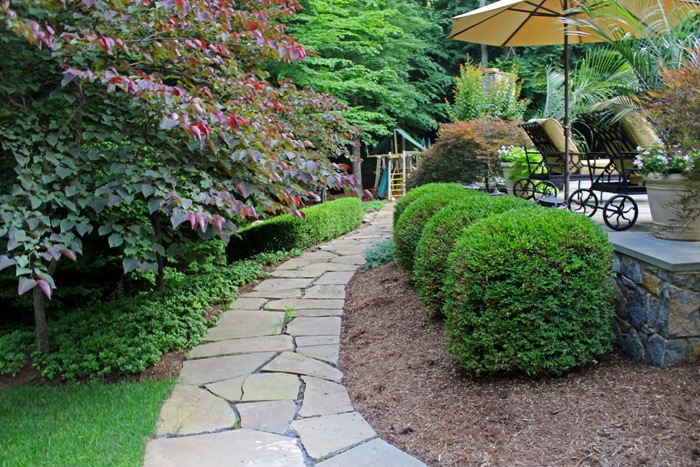 "Getting there is half the fun" doesn't just apply to long journeys. We created this simple yet beautiful flagstone path in Clifton, Virginia as a way for the clients to take the "slow lane" when reaching their pool. Boxwood hedges and a beautiful redbud tree set off this delightful flagstone walk.
Poolside Patio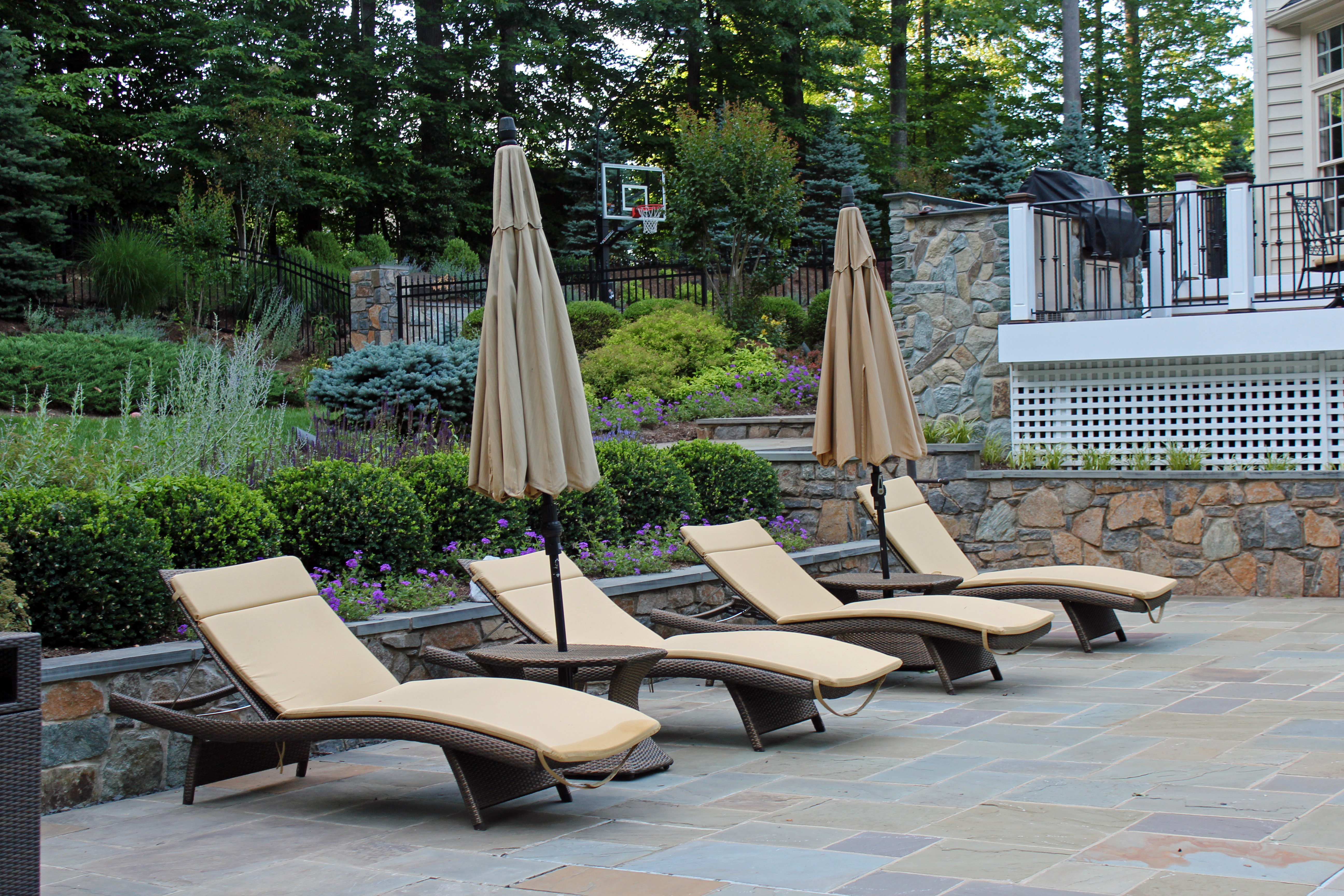 No pool is complete without a place to kick back and soak up the sun! A row of comfortable loungers fills a corner of this elegant Clifton, Virginia pool patio. A seat-height stone retaining wall invites friends to gather and chat, surrounded by gorgeous plantings.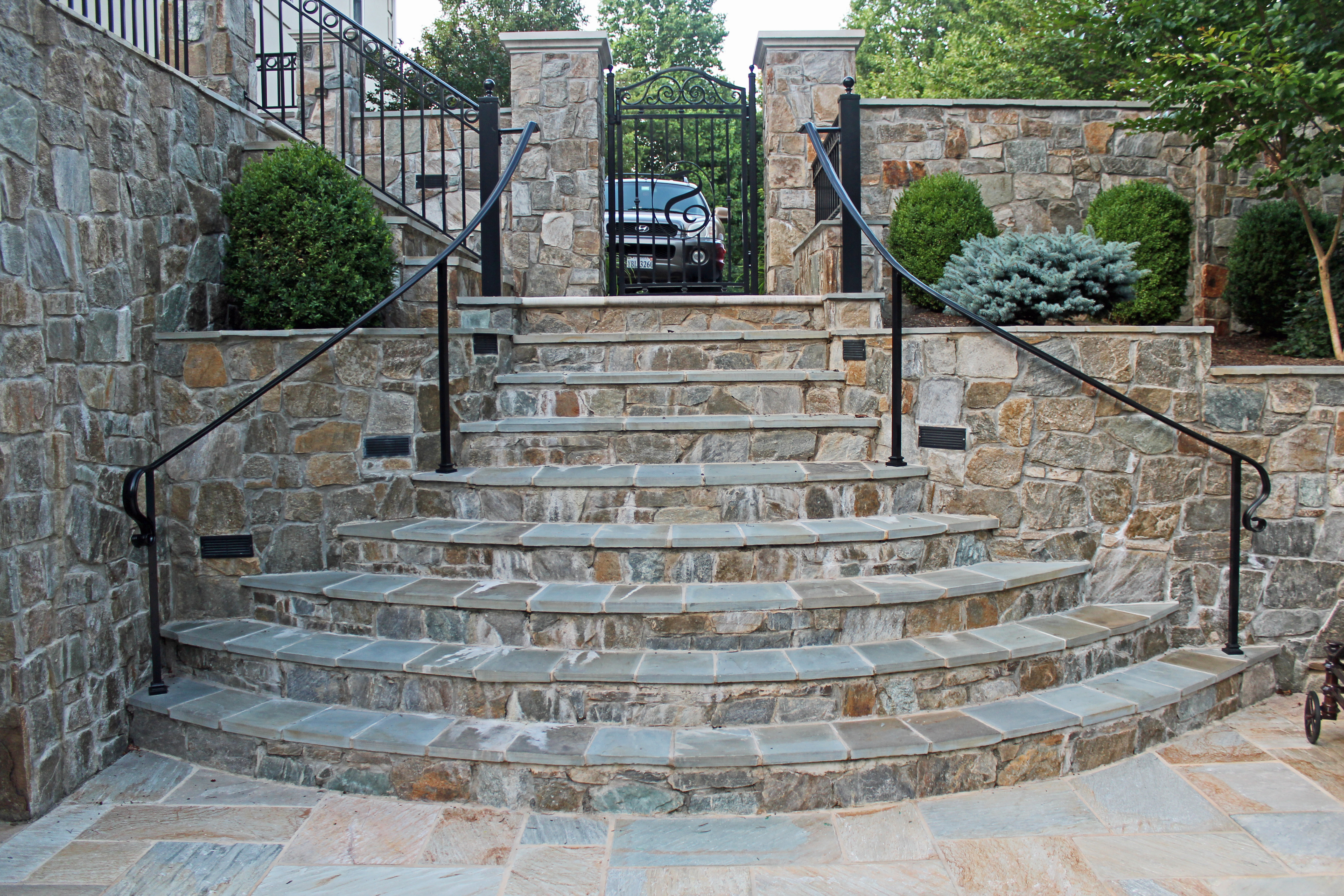 The grand staircase welcomes guests to the patio in this Oakton backyard. Curved steps grow ever larger as visitors descend, and the gracefully curving handrails echo the look of the iron gate and railings above. Flagstone treads and stone risers complement the stone used on the walls and elsewhere in this showpiece of a residential landscape.
Round Patio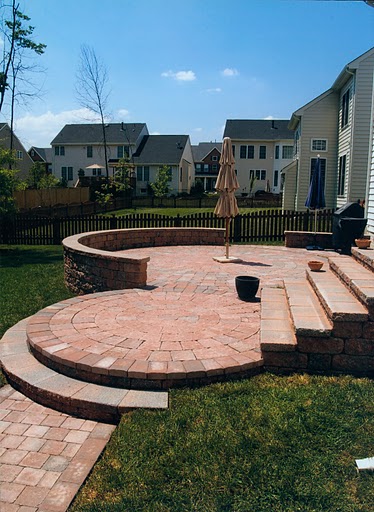 Square patios are functional, but thinking outside the "box" can lead to a memorable project. This paver patio in Chantilly Virginia offers ample space for outdoor living, grilling and a seat wall. What makes it memorable, though, is the way the round landing and steps to the yard flow into the patio. A creative patio design can make any backyard BBQ something your friends will talk about weeks later.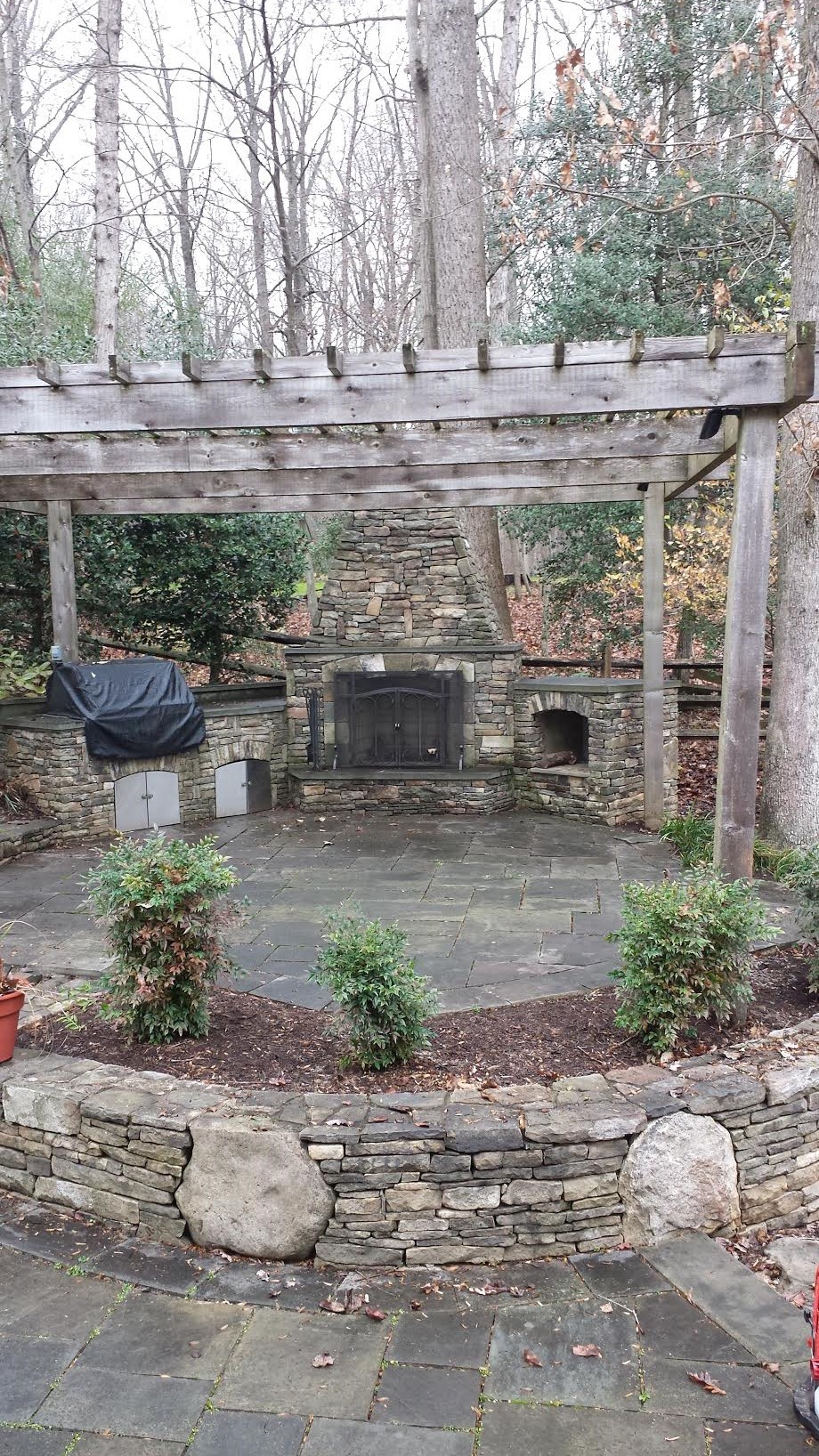 The right stone selection can make any patio look as though it's always been there, and this flagstone patio in Great Falls, VA is no exception. Stacked stone walls are expertly woven around boulders for contrast, a fireplace and outdoor kitchen make this a destination space, and the flagstone patio ties it all together. If you could imagine yourself in a space like this, we'd love to help you create it.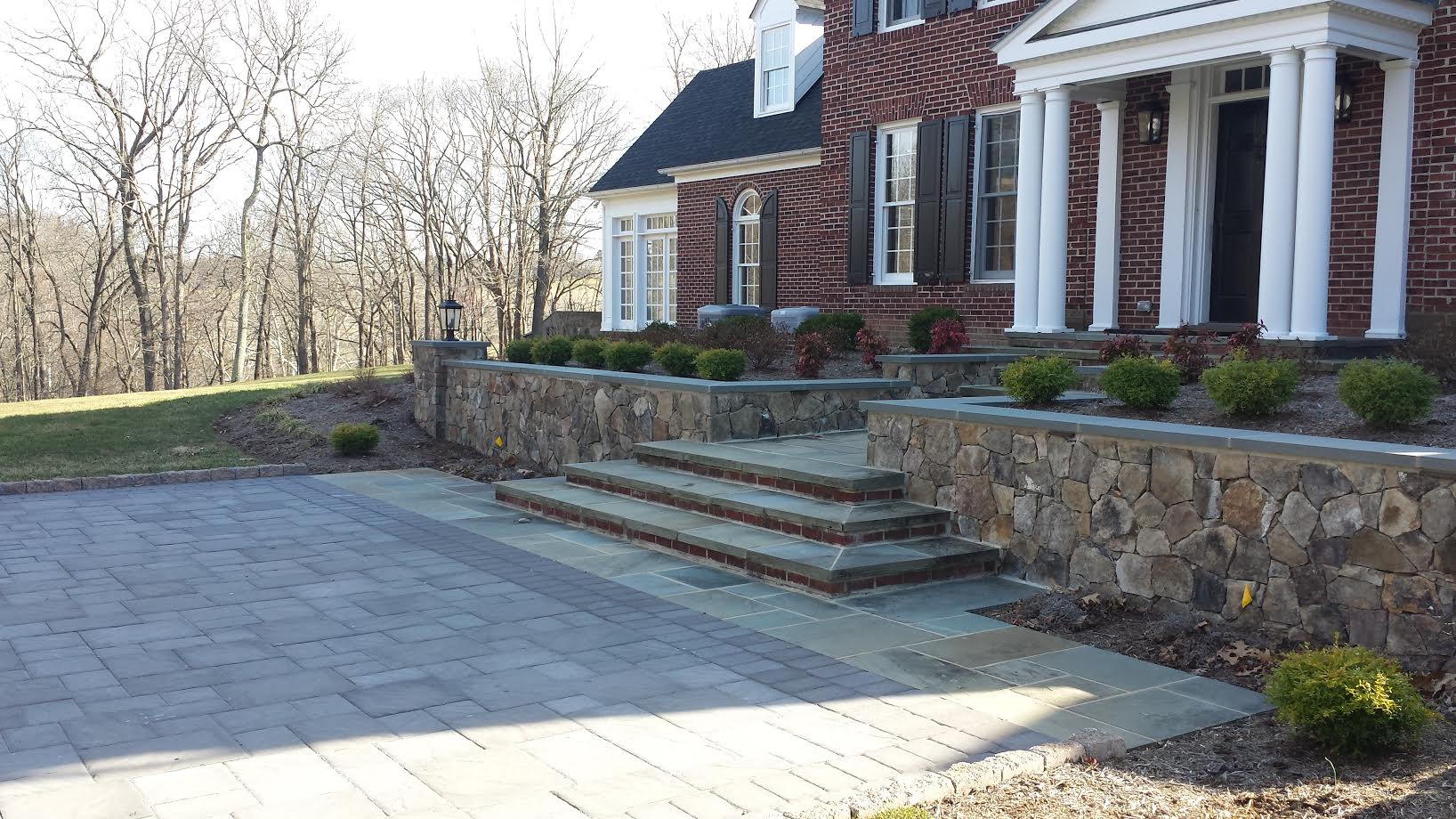 This paver driveway in Marshall, VA adds to the grandeur of the home's entrance. Concrete pavers are a terrific choice for driveways, the durable surface lasting for years. Here you can see how an expertly selected paver – a manmade material – can blend with natural stone and even brick.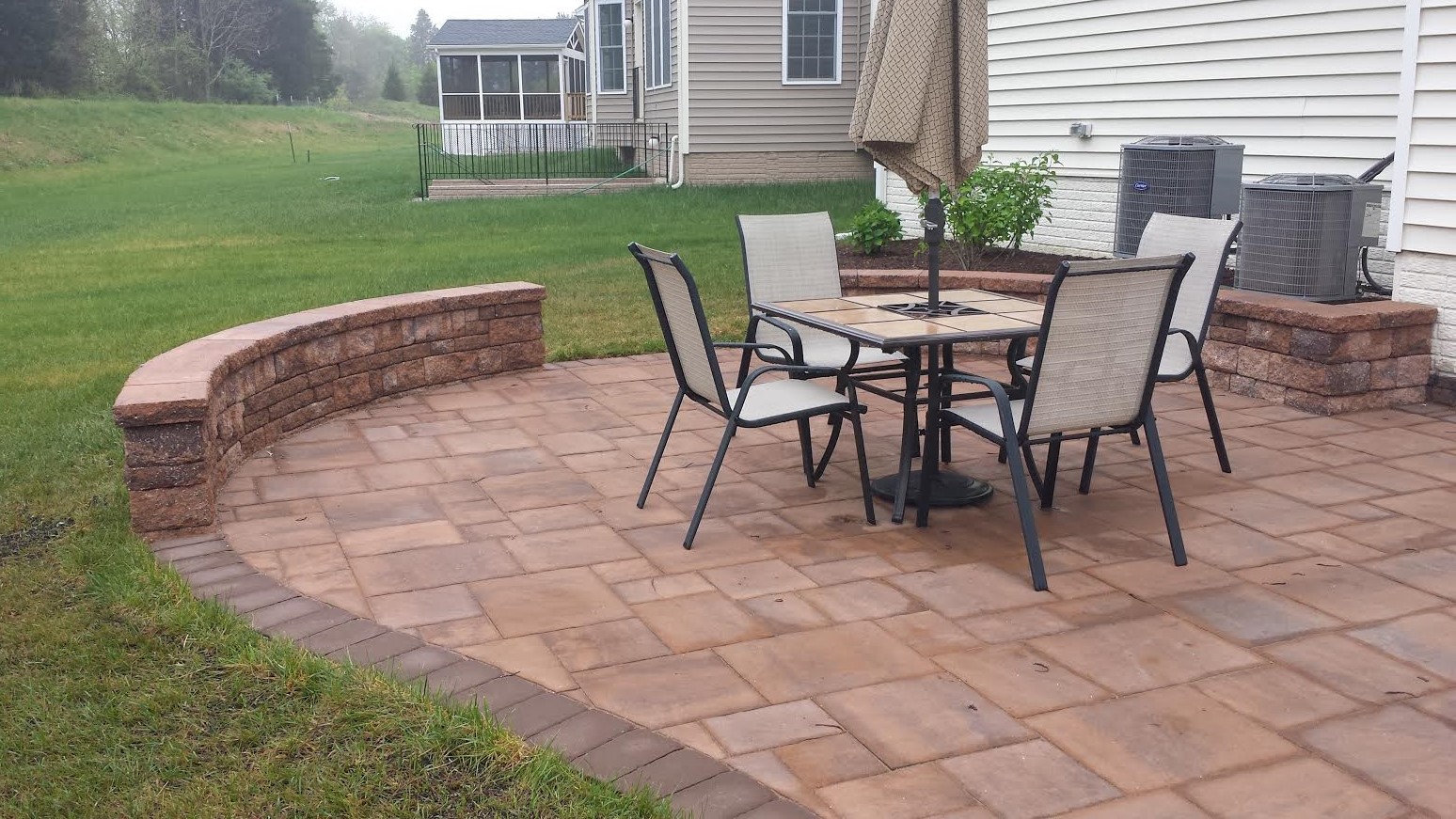 This Aldie paver patio is nestled into the backyard of this home. Retaining walls actually help the air conditioning units recede from view, and a seat wall provides additional seating for large parties.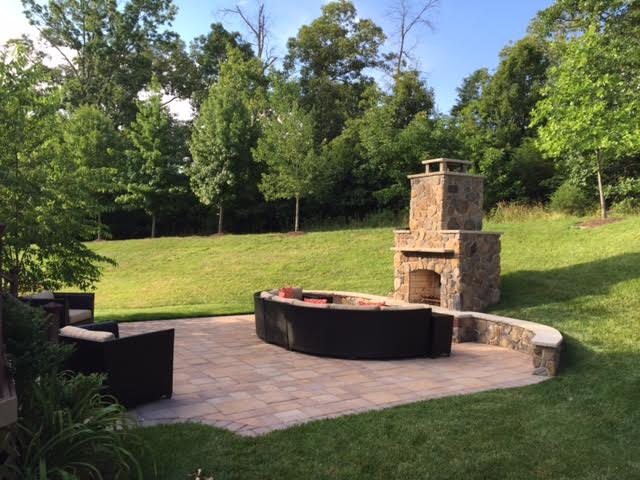 This paver patio in Chantilly VA defines elegance. The focus is on the grand stone fireplace, but our designer allowed ample room for additional seating groupings. Whether it's an intimate night at home for two or a larger party, this space can serve multiple needs.