Top 5 Backyard Landscaping Ideas
This year has only just begun, and it is buzzing with families wanting to bring the indoors, outdoors. From entertaining parties, hosting events or cozying up by a built-in fireplace, these trends are sure to get your creative juices brewing. GreenWorks' team of professional designers can help you tackle the planning process. We can take your inspired vision and create a remarkable outdoor oasis that will provide the perfect backdrop for graduations, anniversaries, or any run-of-the-mill Friday night happy hour. So let's take a look at the trends and get the planning underway. The first quarter of the year is the perfect time to sit down and draw out a master plan. Your relaxing refuge may include any one or a combination of these backyard landscaping ideas. Don't worry about the logistics, because our landscape designers can seamlessly incorporate any addition into your terrain. 
What are the top landscaping ideas making headlines and turning heads?
Backyard Landscaping Ideas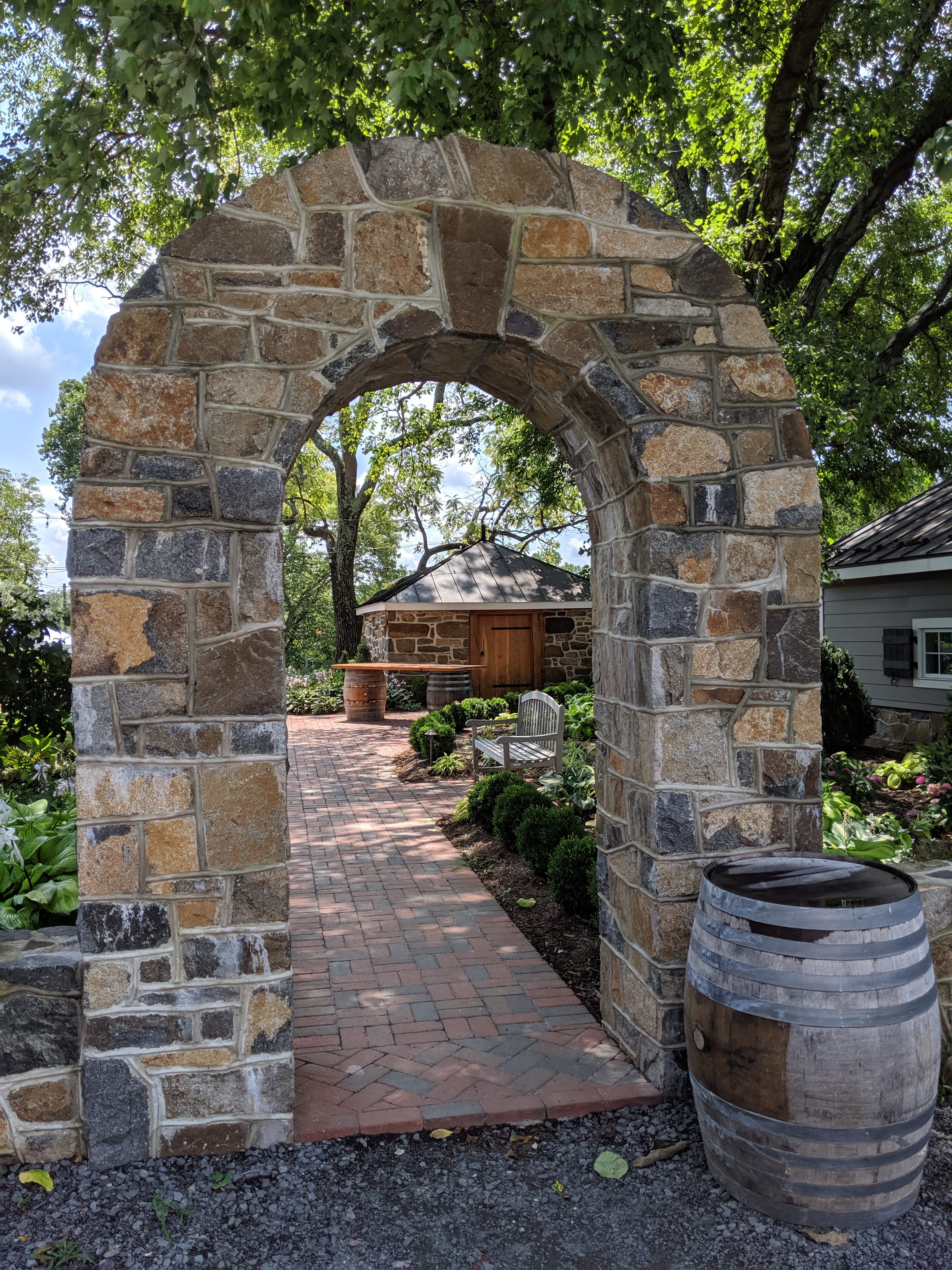 Out with flat concrete and linear brick patio design, because we're doing things differently. Not only do individuals prefer a complex design, but they also want to use unique materials and unusual patterns. This helps differentiate their space from the rest of suburbia. Particularly, homeowners are requesting waves, chevron, lattice, and basketweave patterns on everything from walkways to retaining walls. Arched doorways and tiered patios with varying elevations create not only eye appeal, but they're practical platforms for an outdoor kitchen, wine bar, or firepit.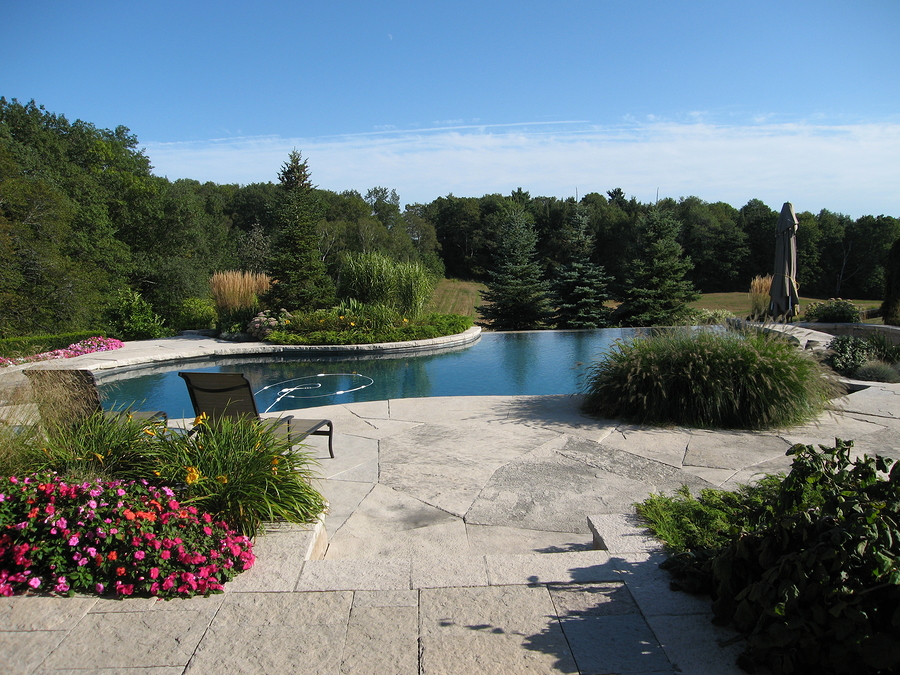 The first swimming pool in the United States was built in Boston in 1868. However, it wasn't used for recreational purposes. Rather,  it was a neighborhood bath as many homes did not have modern bathtubs during this time. The formative swimming pool, that we now know, did not become popular until the middle of the 19th century. At first, most homeowners opted for the above ground pool kits, think early 1990's,  that could be delivered and installed in a day. They were quite susceptible to rips and tears.
Fast forward to 2020. If you are considering a pool design for your backyard, chances are you want to forgo the ugly above-ground eyesore and want to construct a natural stone pool to enhance the look and functionality of your backyard. These luxurious, resort-style pools have become a popular focal point and wish-list item for many single-family homeowners. Take it one step further, and enhance this space with an outdoor kitchen, fireplace, and plenty of seating areas. This addition will make your backyard the envy of the neighbors who can't wait to get the invitation to the best party of the summer.
#3
Outdoor Living Room, Complete With Fireplace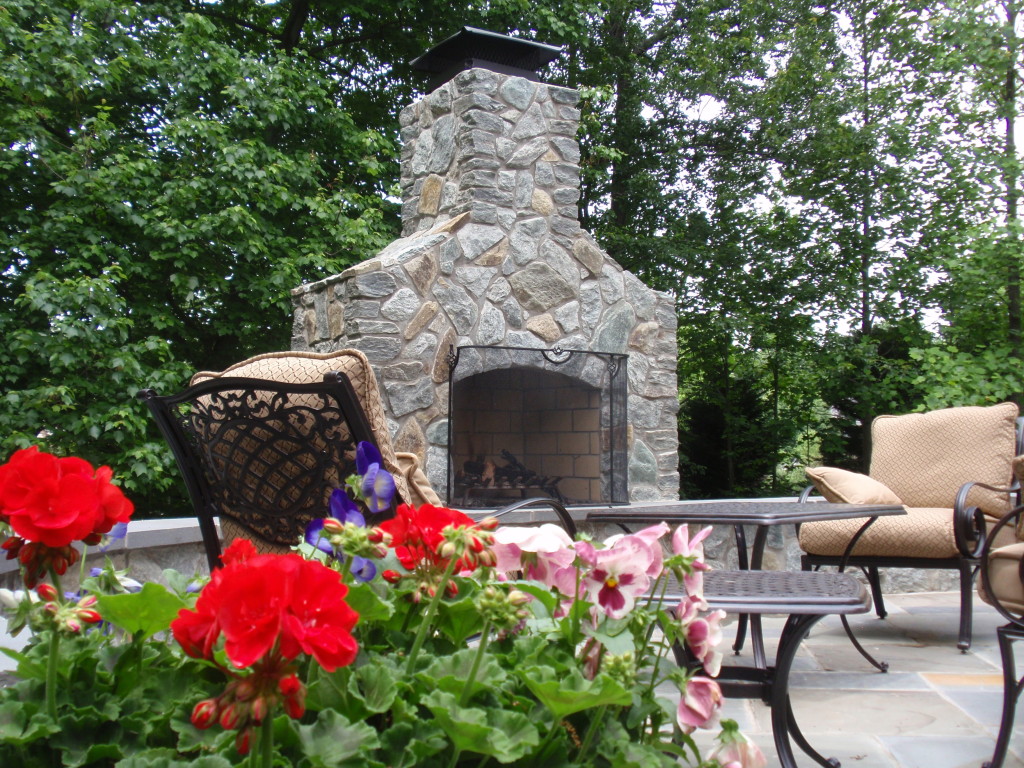 Attention to quality is a top priority today. Not just anyone can design and implement an ornate landscape. The idea of including your outdoor space as part of your living and entertaining space has become more and more popular. A concrete patio with a few lawn chairs has been replaced with a second living room, complete with a sofa, coffee table, outdoor rugs, bartop, and even a fireplace. Families want to enjoy the comfort of their great room with a breath of fresh air and a bit of sun.
#4
Full-Service Kitchen And Bar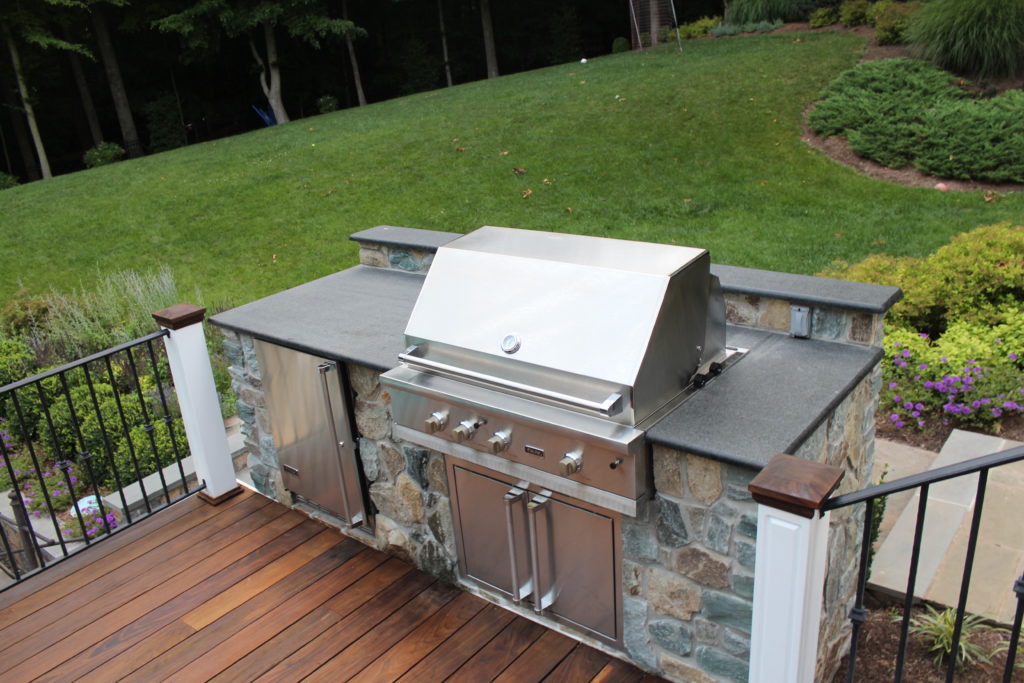 Outdoor kitchens are now more than just owning a grill and being stuck in a far-off corner away from the action. Your family grill master is now the host that sits center stage. Entertaining has never been easier. Outdoor kitchens now include high-end granite countertops, functioning sinks, cooktops, and outdoor refrigerators. For an added bonus, you can also add a backsplash with built-in outlets to plug in a rotisserie, blender, or even a television. Who would ever want to venture back inside? With the kids in the pool, the in-laws relaxing with a book, you can sit back at the bar enjoying the cross-functionality of your beautifully designed landscape. 
#5
Covered Space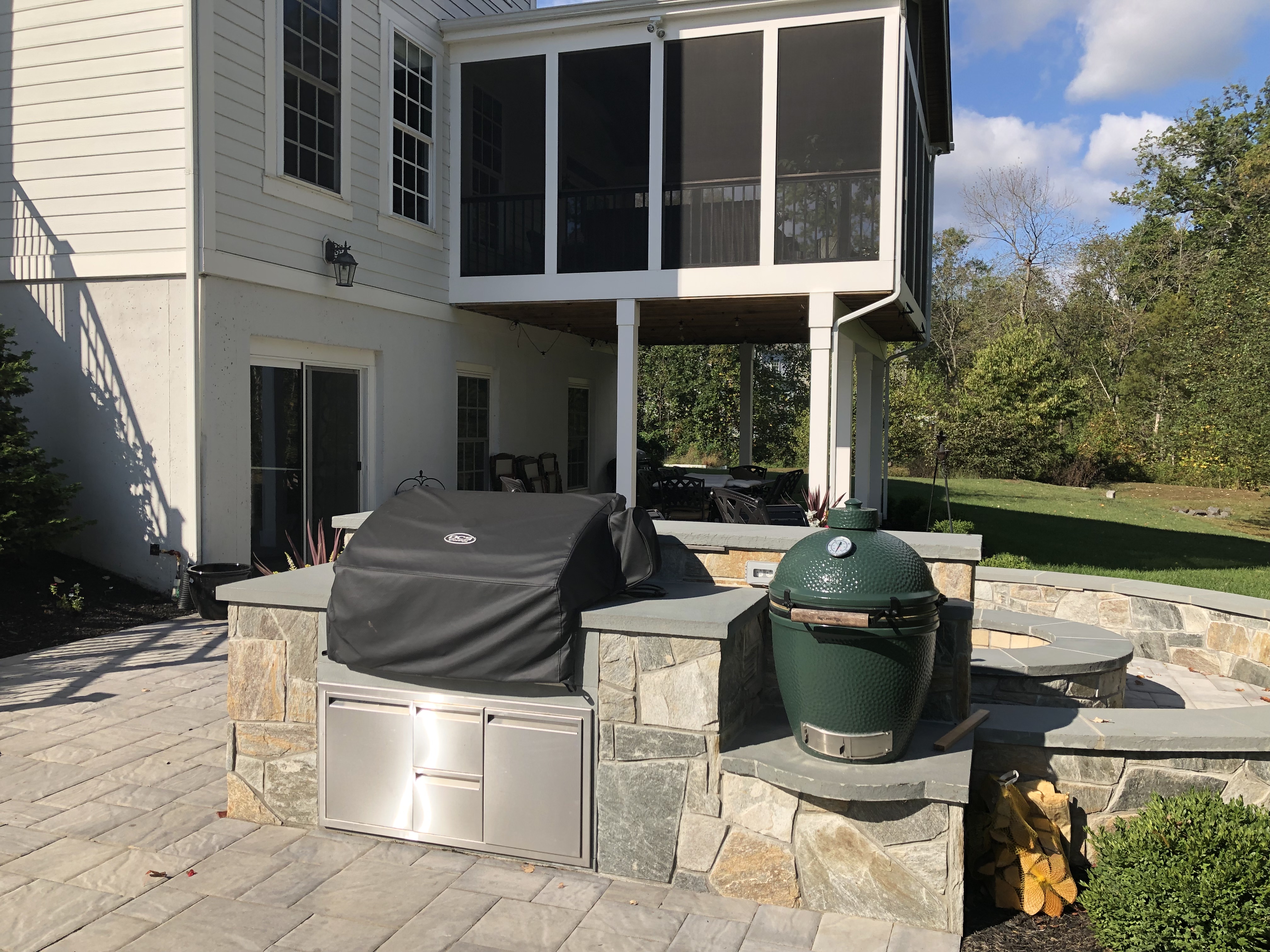 While four-seasons porches marked our grandparents' generation, a new ever-growing trend in backyard landscaping ideas is not so new. It's a remake on what once was. Unique covered or screened-in areas have a whole new look. From building a gas stove for those cool autumn nights to installing a misting system for those sultry summer days. Families want to make an investment in their home that just keeps giving all year through. Pergolas are one example, due to their elegance and natural aesthetic, that top the charts every year. Pavilions and gazebos are also options that offer more privacy and protection from the elements.
Looking to freshen up an outdated look or did you just buy a home with a blank canvas in the backyard? No matter what outdoor space you have, our amazing GreenWorks designers are here to bring your perfectly inspired-outdoor oasis to life! We've got plenty of landscaping design ideas and look forward to hearing yours. With 2020 just underway, there is no better time to start planning. Don't wait, contact us today! GreenWorks Landscaping located on Route 50 in Chantilly, Virginia has the most qualified, seasoned landscape designers in Northern Virginia. With more than 30 years of experience in designing and implementing gorgeous landscapes, they are ready to help. From residential to commercial outdoor spaces, GreenWorks has the expertise you're looking for to complete your outdoor sanctuary.