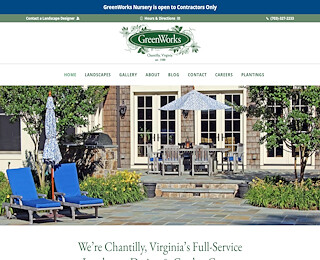 Creating your home's outdoor landscaping is a way to improve the curb appeal of your house and add your own personality to the design. One of the best types of retaining walls in Chantilly, VA is the segmental style. Segmented retaining walls in Chantilly, VA are made using the latest concrete technology. All of the blocks are uniform in size and shape and are designed specifically for use in making strong, sturdy and beautiful retaining walls.
Segmental Retaining Walls
Segmental retaining walls in Chantilly, VA are functional as well as appealing to view. They add stature and depth to your property. They can be used to function as a traditional retaining wall or they may be simply for adding interest to your property.
Segmental retaining walls are built using a different method than retaining walls that are made of traditional masonry. First a wide but shallow trench is dug out and filled with aggregate that is compacted for support. Then, segmented blocks are placed directly on the leveled surface.
Blocks are not cemented together but instead are held in place with pins, tabs or notches. Geogrid is a product that is used at regular intervals to help hold the wall in place and extends past the wall in the back. Then, gravel is placed directly behind the wall and a cap is used to create a finished appearance.
Benefits of Segmental Retaining Walls
Segmental retaining walls in Chantilly, VA use an advanced system of design to create a wall that functions much better than walls that are built with traditional materials. One important feature is that the wall is designed to move slightly with the weather. When the earth moves due to freezes and thaws, the wall moves rather than cracking or breaking.
This flexibility along with the advanced design gives the wall extreme durability and strength. Another advantage of segmental retaining walls is that they can be built rather quickly. In addition, they can be built in a number of different conditions.
Segmental retaining walls are available in a wide variety of styles and colors. Smooth stones create a more polished appearance or you may prefer a more natural or rugged look. The colors available are typically natural hues that you can choose to match the architecture and appearance of your home.
These types of retaining walls work as a system so they are very durable. They will not lose their beauty over time and they won't be prone to falling apart as has happened to some traditional masonry retaining walls in the past.
You will certainly be able to find a style that suits your needs and your budget. You can view some completed retaining walls to get an idea of what the wall will look like when it is finished. Our expert landscape designers will assist you in creating a retaining wall that will perform well and look good. Contact us today to learn more about our garden landscape design services including retaining walls in Chantilly, VA.
Retaining Walls Chantilly Va
Greenworks Landscaping & Garden Center
7033272233
42660 John Mosby Hwy, Chantilly, VA 20152
View Larger Map