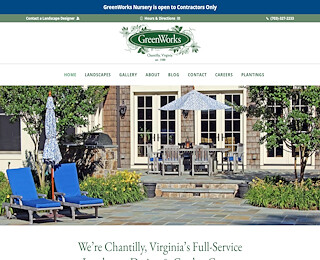 Your yard is an extension of your home. A beautiful yard is a wonderful place to relax and enjoy the outdoors. One of the best ways to achieve a tranquil and appealing property is with professional garden landscape design in Chantilly, VA. There are many ways that you can put your personal ideas to use with help from a designer.
Create a Beautiful Outdoor Space
You can create a gorgeous living space outdoors when you get help with garden landscape design in Chantilly, VA. You can design the exact garden that you want using a one-year plan or you can extend the work into several years. The first step is to take a look at the space and get some ideas of how you would like it to look.
Next, meet with a garden landscape designer. The designer will work with you to help you create a garden landscape that works well with your home's architecture and fits your needs and lifestyle. It is helpful to create a design plan so that all of the elements will work together to form a cohesive space.
Consider the way you and your family would like to utilize your outdoor area. For instance, if you plan to entertain outdoors you will want to include a fire pit or barbeque area along with seating areas. A walkway and garden area will provide you with a beautiful view. You can add a built-in swimming pool with a patio area for relaxing and enjoying the warm weather months.
Features to Include in Your Outdoor Space
There are many different features that you may want to consider incorporating into your garden landscape design in Chantilly, VA. Some of the most popular features include retaining walls, plantings, water features, flagstone or paver patios and walks, landscape lighting, decks and pergolas, outdoor kitchens, fire pits, fireplaces and more.
You may want to use some or all of these features depending on the size and space you have available. A meeting with the designer will help you sort out your thoughts and give you some useful ideas that you can use to make your decisions. Our experienced landscape designers have the expertise to help you create a unique and appealing outdoor area.
There is no better way to add some curb appeal and comfort to your home than with garden landscape design in Chantilly, VA. By improving your outdoor space you can essentially add more useful area to your home and increase its value. You will have a new and improved area for entertaining or for simply relaxing with your family.
If you can imagine it we can design it. We will help you make your dream garden into a reality. Our team of garden landscape design experts is here to assist you every step of the way. We know how to create beautiful and high quality designs that will add beauty and functionality to any outdoor space.  Landscape design is our passion and we can handle all projects large or small.
Garden Landscape Design Chantilly Va
Greenworks Landscaping & Garden Center
7033272233
42660 John Mosby Hwy, Chantilly, VA 20152
View Larger Map