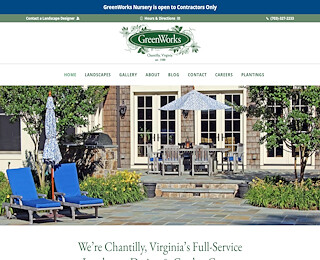 At Greenworks Landscaping, we are landscaping designers and landscaping professionals. We provide a wide range of landscaping services for residential and commercial properties. For a typical Chantilly landscape design project in VA, we'll come to visit your site, take a view of the land, and make an assessment. We will discuss which kinds of plants, furnishings, and ornaments you want to use to accent your site. When you hire Greenworks Landscaping; whether we're in the office or out in the field; we are always working for you! We like to help our clients to design property-enhancing, fun, and beautiful home landscapes slightly outside of the box.
Consider an Outdoor Living Room in Your Backyard
Have you dreamed about creating an outdoor living room for your home? If so, you will love our outdoor living room design options. Outdoor living rooms are affordable and only require minimal furniture. You can use outdoor furniture with waterproof cushions, an outdoor television that stays outside during Spring, Summer, and Autumn and gets taken inside during the winter, and use beautiful pots and planters that can stay all year outdoors. You can use seasonal plants in the summer and evergreens in the winter. For some fun in the fall, why not have a chimenea to start fires while you watch your outdoor TV on your outdoor living room furniture?
An Outdoor Kitchen with the Outdoor Living Room?
What good is an outdoor living room without an outdoor kitchen!? An outdoor kitchen can be simple but add a nice flair to your landscape. We can install an outdoor barbeque and an outdoor refrigerator with plenty of cooking and counter space. Also, we can place an outdoor mosaic table with umbrella and chairs further out into the yard to serve as a family dining table and have a small bistro table for coffee in the morning. We can contain your dining area with a boxwood hedge wall. Indeed, there are many options for outdoor spaces.
Have You Thought About a New Lanai?
Consider a covered porch designed for rain protection. This can be a great place to hang out by yourself or with friends. A nice couch and rockers with a covered pile of firewood for the chimenea can add a homely and rustic appeal to your lanai. We can even install fans with lights to help circulate the air and light up your lanai at night. Make your lanai stand out with your favorite ornaments and decorations that will make it feel like you're inside.
We Do it All at Greenworks Landscaping
Greenworks Landscaping can create a wide array of outdoor living environments. Additionally, we can install fountains, ponds, plants, trees, and everything else you would expect from a landscaping company. We are by far the best source for Chantilly landscape in VA. To learn more about our services, give us a call or send us an email. We'd be honored to make your acquaintance. Feel free to check out our client reviews online and see the kind of work we do.
Chantilly Landscape Design Va
Greenworks Landscaping & Garden Center
7033272233
42660 John Mosby Hwy, Chantilly, VA 20152
View Larger Map